The aftermath of wind and hail storms can lead to unpleasant leaks and damage that causes a headache. Roof Source is equipped with the knowledge and tools to ensure that the roof over your head is reliable and safe. We take it upon ourselves to help with the insurance claims process to ensure that our clients follow the necessary procedures to report the damages effectively and efficiently. Our goal is to make the process as seamless as possible so you can make the most of your claim. We recommend the following steps for the claim filing process: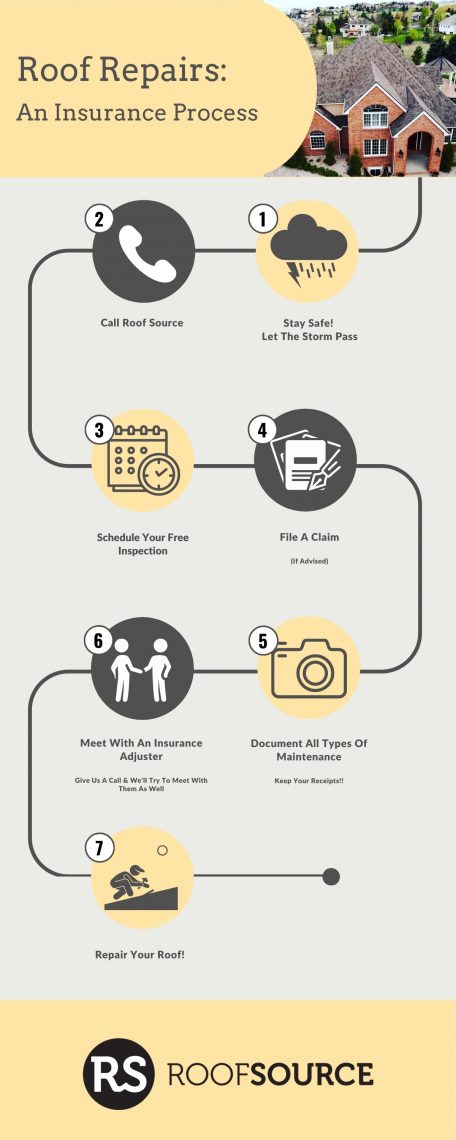 1. Stay Safe & Let The Storm Pass:
Your safety is our priority. Be sure to wait until the storm passes before you consider assessing any damage. If an emergency occurs, please call us immediately and we will get you in contact with an experienced project manager.
2. Contact Roof Source:
After noticing signs of damage, you will want to reach out to a reputable roofing company in your area to take a closer look and provide you with a roof repair estimate. When selecting a residential roofing contractor, be sure to check out their online reviews from sources such as Google, Top Rated Local, or BBB. A quality roofing company will be able to help with the insurance claims process, keep you informed throughout the repair process, and have processes in place to keep your home clean and safe while the roof is being repaired. For more information on selecting a reliable roofing contractor, check out our article "How To Choose the Best Roofing Contractor In Your Area"
It is important to assess the damage done to a roof after a storm. You will want to keep an eye out for signs of damage such as missing shingles and small indentations from hail. Keep in mind that even small signs of damage can create much larger problems in the future so be sure to be thorough when taking a look at your roof. If you notice any signs of damage, please give us a call so we can further inspect your roof. If you prefer, you can give us a call and we can do all of the inspecting on your behalf! This will allow us to document all damage through photographs designed to help with insurance claims. 
3. Schedule An Assessment:
On the day of your assessment, one of our roof inspection specialists will take a closer look at the damaged roof. We will assist you with taking pictures and providing measurements and descriptions of the damaged roof areas to provide to your insurance company. At this point, if filing a claim is the best option, we will advise you to start the claims process by calling your insurance company. We will also ask you to sign a contract allowing us to provide information directly to your insurance company. This allows us to use our resources to make the most of your claim and make the process more seamless for you. 
4. File A Claim:
Reach out to your insurance company to request paperwork for filing a claim. This will begin the claims process. Your insurance company will likely ask for documentation of the damage (which we can help with) and they will provide you with a list of Colorado roofing companies that you can work with. Roof Source is a preferred roofing contractor for many insurance companies in the Northern Colorado region.
5. Document Any & All Types Of Maintenance:
If you notice that the condition of the roof is deteriorating, document any changes! If you notice any damage done to the interior of your home as a result of a roof leak, be sure to take photos of that damage as well. If you or a professional makes any small repairs to the house during the interim period of getting your roof repaired, keep your receipts!
6. Your Insurance Company Will Send An Adjuster & Follow Up
During this step in the process, your insurance company will send an adjuster to assess the damage of the roof and verify that the information provided in the claim is accurate. Please let your Roof Source project manager know about the adjuster's time of arrival. This allows our roofing specialists to point out specific spots of damage to help with your claim. 
If your roofing project manager is not able to meet directly with the adjuster, we will ensure that all of the information reported by the adjuster is completely accurate. At this point in the process, we will look at every bit of damage documented by your insurance adjuster to make sure you make the most of your claim. Our Roof Source project managers are extremely thorough and detail- oriented and will report back to your insurance company with any damage that may have been missed during the inspection performed by the adjuster.
7. Repair Your Roof!
At this point, Roof Source will bring a team to repair your roof. We use the highest quality materials to help your roof last as long as possible and protect your family. Our team is dedicated to leaving the exterior of your home better than we found it. We maintain a standard of cleanliness throughout the roof repair process and we will keep you informed about upcoming steps and estimated completion times. If you'd like to learn more about what to expect during the roofing process, feel free to check out our blog: "Next Steps In The Roof Source Process."
Other Insurance Questions:
How Long Does It Take To Receive Insurance Money For The Repair?
There are many factors that play a role in how long it will take to get your claim approved and finalized. If the insurance company is experiencing a large volume of requests (in the case of a large storm) then it will likely take them longer to respond to your request. This may also delay how quickly they can get an adjuster to check your roof. If you are in a hurry to get your roof replaced or repaired, hiring a public adjuster may be within your best interest to speed up the process. Working with an experienced roofing contractor will also help in ensuring all of the paperwork has been filed properly, therefore speeding up the process. Once the claim has been settled, it can take 30 – 60 days to receive funds for the roof.
What Do I Need To Do During the Inconvenient Interim Period While Waiting For The Claim Process To Finalize?
Be sure to stay in contact with Roof Source throughout this time period if the conditions of the roof worsen. If you do any small repairs while waiting for the settlement, be sure to keep all receipts! If we are waiting for a claim adjustment, there may be situations where we can get started on the roof before you receive funds. However, in order to ensure you get the correct settlement from your insurance company, we may advise you to get your insurance claim approved and finalized before starting any repairs.
Who Is Responsible For Paying For The Roof?
Once you receive funds from your insurance company, you can give us a call to pay your invoice. Roof Source has a policy that the out of pocket deductible amount will not be surpassed unless upgrade requests are made by the customer. Once the roof repair has been completed and the contract fulfilled, the customer is responsible for paying that amount in full.
Why Is It Important To Hire A Roofing Contractor With Insurance Experience?
Hiring a trustworthy roofing contractor in your area will help you in many steps of this process. At Roof Source, we have years of experience working with insurance companies and we know what to specifically take pictures of, measure, and report for your claim. If a full replacement is required, we can provide documentation that outlines that the repairs are not doable or would outweigh the cost of a total roof replacement. Our roofing professionals are also equipped with helping insurance adjusters notice all damage on your roof so you can make the most of your claim.
What Can I Do In The Future To Assist With The Claims Process?
Documenting damage on your home can definitely help with any kind of insurance claims in the future. Be sure to take videos or photos that are clearly time stamped to show the time period at which the damage happened. Providing before/after photos can assist you in the claims process. Roof Source uses programs that add timestamps to the photos in order to help with the claims process as well. If you have any questions about our process, feel free to reach out to us.
Another way to help make the claims process smoother is by having a pre- selected local roofing contractor in mind so they can help with you as soon as possible. 
What If My Insurance Company Denies My Claim?
You have a right to appeal the payout amount so just keep us informed and we can try to get the claim reassessed. If we are unable to get the claim approved, you can feel free to hire a public adjuster if there is obvious damage to the roof.